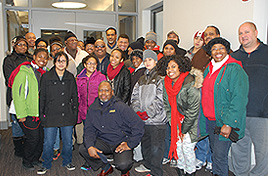 Welcome!
We worship IN PERSON (masks OPTIONAL) and STREAM our Sunday worship LIVE. CLICK the FaceBook link and scroll down.
Just miles north of the nation's capital, First Baptist Church of Ken-Gar is located in a historic enclave with roots to freed men and women seeking to build new lives and their faith. Its disciples now hail from from Ken-Gar and communities near and far. We are a loving fellowship striving for spiritual growth through Bible-based preaching and teaching that is relevant, timely, and encouraging. Our services are lively, timely -- and filled with praise and music that will move you. And you will hear a Word from the Lord that is profound and practical, instructive and inspirational.
Check back for updates.
Service Times & Location
Sunday School 9:30am
New Disciples Class 9:30am
Morning Worship 11:00am
Bible Study - Wednesday 7 pm
First Baptist Church of Ken-Gar
3922 Hampden Street
Kensington, MD 20895
PH: 301-942-3423

Reverend Norman O. Hall, Pastor